Flea Removal Berkshire
Fleas are becoming increasingly prevalent in the UK as more and more of us get pets. As much as we love our furry friends, they can bring with them fleas, which can be a serious issue for homes and businesses.
These pesky insects can be incredibly hard to get rid of once they enter your property. Flea eggs hatch within as little as 1 to 10 days, and the larvae feed on their own faeces and the blood of their hosts until they become adult fleas in 2 to 4 weeks.
With such a short growth period, a few fleas can become a full-home infestation extremely quickly. Regular cleaning and DIY flea sprays don't work, so it can be overwhelming to deal with a flea problem without professional support.
Thankfully, Countrywide Environmental is here to help. We offer professional flea treatment that will get rid of fleas for good. We use RSPH level 2 insecticides to remove all the eggs and adult fleas from your space.
Most domestic flea treatments require 3 visits, but our team will review the infestation and see if additional visits are needed. For commercial companies, particularly those that work with animals, we can offer annual contracts to inspect your premises for signs of pests, including fleas.
To get your flea control treatment started and stop the spread of the infestation, get in touch with Countrywide.
Why Fleas Are Bad For Your Home And Business
They might be so small they're hard to see, but fleas can cause havoc for homeowners and business leaders. When fleas bite humans or animals, they can transfer pathogens and bacteria that can cause serious illness.
Also, the feel of fleas and flea bites on your skin can be distressing and lead to itching and irritation. Fleas spread easily and won't just settle in pet bedding but also on any soft furnishings such as sofas, armchairs, cushions, blankets and carpets.
Therefore, getting rid of fleas on your pet's skin, fur, and bed is not enough; you'll also need to remove them from every surface in your home, including clothing and upholstered furniture.
For businesses, fleas can indicate to customers and potential clients that your business is unhygienic and unsafe. They're a reputational hazard as well as a financial one, as you could have your commercial premises shut down by the council if it's found to breach health and safety standards because of fleas.
So, call Countrywide to get your flea control treatment started. From our head office in Newbury, we cover the Berkshire, Hampshire and Oxfordshire counties. Our team is spread far and wide, and we aim to provide prompt and professional flea treatment to all our customers.
How Countrywide Removes Fleas
Countrywide offer a call-out and treatment service to deal with flea infestations. Our team will promptly visit your property to identify the scale of the infestation and explain what will be needed to remove it.
Our team use insecticides that are only available to RSPH level 2 certified pest controllers. In some cases, we can explore heat treatments to get rid of a heavy infestation.
When we first visit the property, we will identify the infected rooms and provide flea treatment to them as a priority. Each of the treated areas will be shut off from the rest of the property as we continue to treat the rest of the house and remove the flea infestation.
Once the initial treatment is complete, we will return to check that the fleas have not spread and to check that we have treated the correct areas.
When the flea removal is done, we will provide a full report to show you the work we've undertaken. Our expert pest controllers can also provide helpful advice on how to prevent fleas from coming back and explain the common signs of flea problems.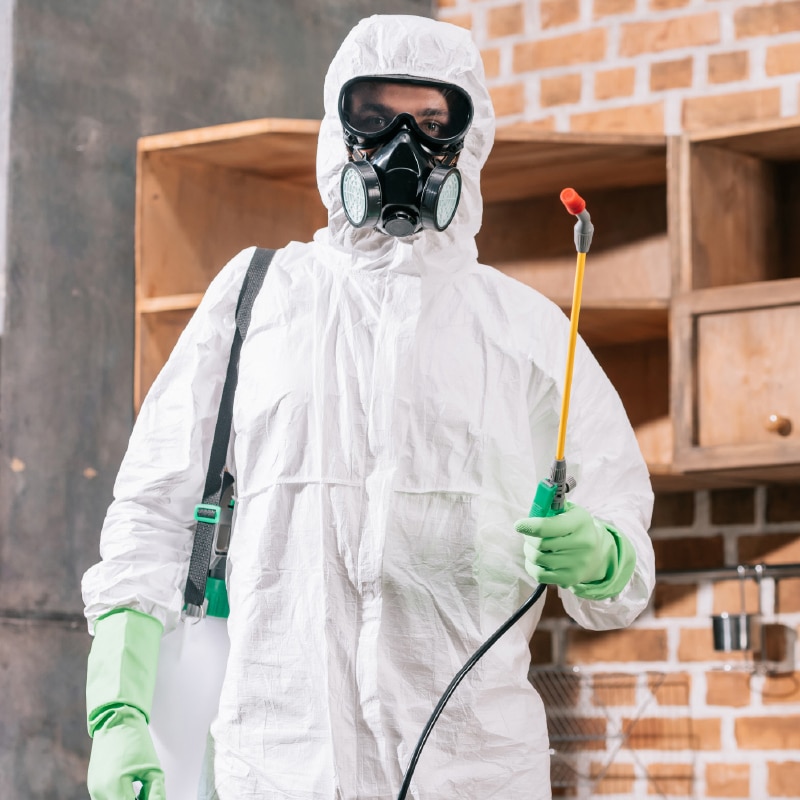 How To Identify Fleas
Often found on hairy animals, such as dogs and cats, fleas can be difficult to spot and even harder to identify, especially if you don't see them on your pet's fur.
Often, young fleas jump from the host animal onto furniture and fabric. Once there, they lay eggs and expand the population, meaning that you might not just see them on your pet.
The most common type of flea in the UK is the cat flea (Ctenocephalides Felis). Cat fleas are the largest of the flea species found in the UK, at around 3mm long. There is also the dog flea (Ctenocephalides Canis), the bird flea (Ceratophyllus Gallinae) and the less common human flea (Pulex Irritans).
Although each type of flea is named after the species they prefer to eat from, fleas bite humans and other animals when they have the chance. As such, you won't be safe if your dog gets cat fleas.
Fleas can be mistaken for bed bugs, but they are rounder and have long legs, as opposed to bed bugs, which have flat bodies. An easy way to see if your pet has fleas is to check for faeces, also known as flea dirt. Flea dirt looks like small, brown specs, but when placed on a paper towel and splashed with water, it turns red because it contains undigested blood.
Also, you should carefully examine your pet if you suspect they have fleas. You can often see redness where your pet has been scratching its skin, but if you're not sure, then contact your vet.
Once you have identified fleas, you need to be proactive. It's not enough to provide your pet with a flea treatment; you also need to get rid of fleas and remove debris, such as eggs and flea dirt, from your home to remove the full flea infestation.
For guaranteed eradication of all fleas from your home or business property, Countrywide is the perfect partner. Covering Berkshire, Reading and Oxfordshire, we're able to offer a complete flea pest control service. Contact us today to book your site survey.
What To Do If You've Got Fleas But No Pets
Most people think that fleas only occur in homes with pets, but that's not always the case. If you don't own an animal, you can still get a flea infestation. Usually, this is caused when you move into a new property that previously housed animals, and the fleas have hidden in carpets or soft furnishings. Dormant fleas can lie in wait for up to 9 months in the pupae stage before they find a host.
In some cases, visiting animals can transfer fleas. These don't necessarily have to be pets; wildlife or pests such as rats, mice, squirrels, wild rabbits and foxes can transfer fleas to garden furniture or clothing that's drying outdoors. Alternatively, if the pests manage to get inside your home, the fleas can quickly spread throughout your property.
Fleas can even jump into crevices in clothing, such as the turn-ups of jeans or the cuffs of shirts. If you have guests who have pets, then fleas from their animals could spread into your home. This could also occur if you buy secondhand furniture, as fleas like to live in soft fabrics.
However the fleas arrived, prompt flea treatment is essential to ensure that they don't spread further and cause more disruption. Call 0800 078 7255 for more information on our flea pest control services and how we can treat your flea infestation.