A Comprehensive Suite Of External Cleaning Services
The outside of your property is as important as the inside: after all, you only get one first impression. The facade of your building can be the first sign to visitors, potential property buyers or customers that you care.
At Countrywide, we understand the importance of keeping the outside of commercial property clean. That's why we offer expert external cleaning services to our clients, which can either be stand-alone or used alongside our pest control solutions.
What started as a complementary add-on to finish pest removal jobs has turned into a specialist focus, and we now clean roofs, exterior windows, gutters, cladding and more for clients across Berkshire and the surrounding counties.
High Level Cleaning

For large commercial businesses or residents in high-rise buildings, we can clean those hard-to-reach areas with specialist access equipment. From mobile platforms to scaffold towers, we have a range of tools to help us work at heights and clean windows and roofs. All of our personnel carry IPAF and PASMA certifications, so you can rest assured they're safe and able to carry out any job to the highest possible standard.

Soft Wash Cleaning

Soft washing is an innovative approach that involves using low-pressure water systems to safely and effectively remove organic moulds, fungus and lychen from rendered buildings. This technique is great for traditionally hard-to-clean surfaces such as roof tiles, windows, window screens and wooden facades. These surfaces can become a haven for bacteria if they're not regularly cleaned but can be damaged by pressure washing. With our innovative soft wash cleaning service, we can ensure your surfaces are pristine without causing any damage.

Jet Washing

For large stone expanses, such as pavements and frontages, we can use our jet washing expertise to remove long-standing dirt and get your property back to looking its best. From one-off cleans to regular maintenance programs, our jet washing service is flexible and designed to keep your space looking clean and fresh.

Gutter Clearing

Gutters can harbour dirt and debris, which can cause them to get blocked. Blocked gutters can cause drainage problems and damage to your property. As such, regular gutter cleaning is vital. Countrywide provides expert gutter cleaning using vacuum-based systems to get rid of all dirt and leave your gutters clean and ready for the next rainfall.

Cladding Cleaning

Cladding is a product that covers your exterior walls and protects them from wind and rain, while also giving your property a fresh look. While it can be very useful, it can also get dirty easily, as it's exposed to the elements. Thankfully, Countrywide offers expert cladding cleaning for our customers. Our team can use water fed pole systems or powered access tools to clean your cladding. As such, we're able to clean even large or hard-to-access properties and get their cladding back looking as good as new.

Rubbish Removal And Grounds Clearance

Originating from our pest clear-up operations, Countrywide has created a great service that allows us to clear up overgrown areas and remove waste from the grounds of any property. Over the years, our rubbish removal and ground clearing services have evolved, and we're now able to offer strimming, blowing and mowing to give you a complete solution for managing your outdoor space.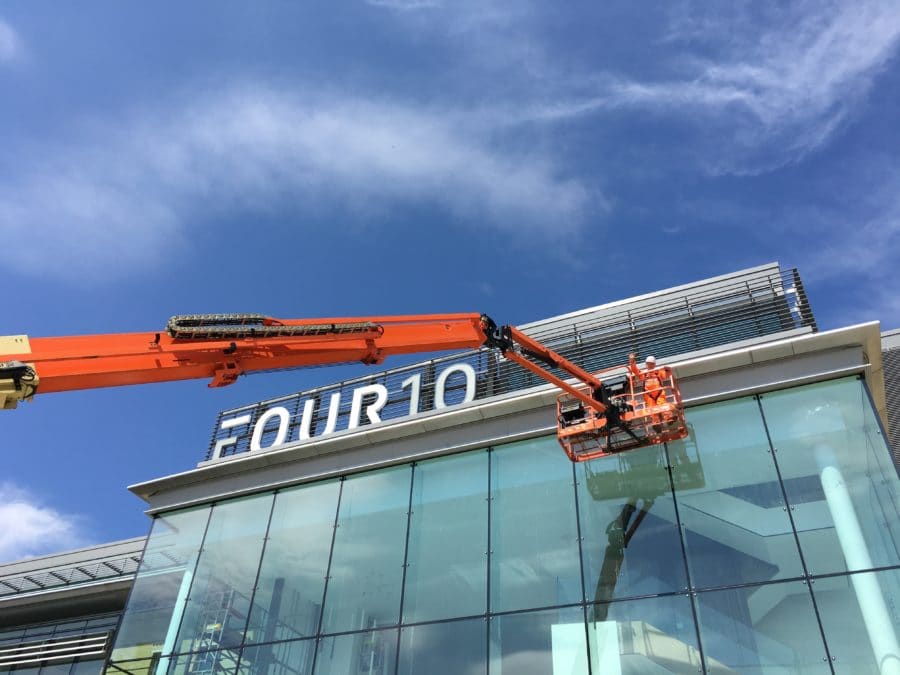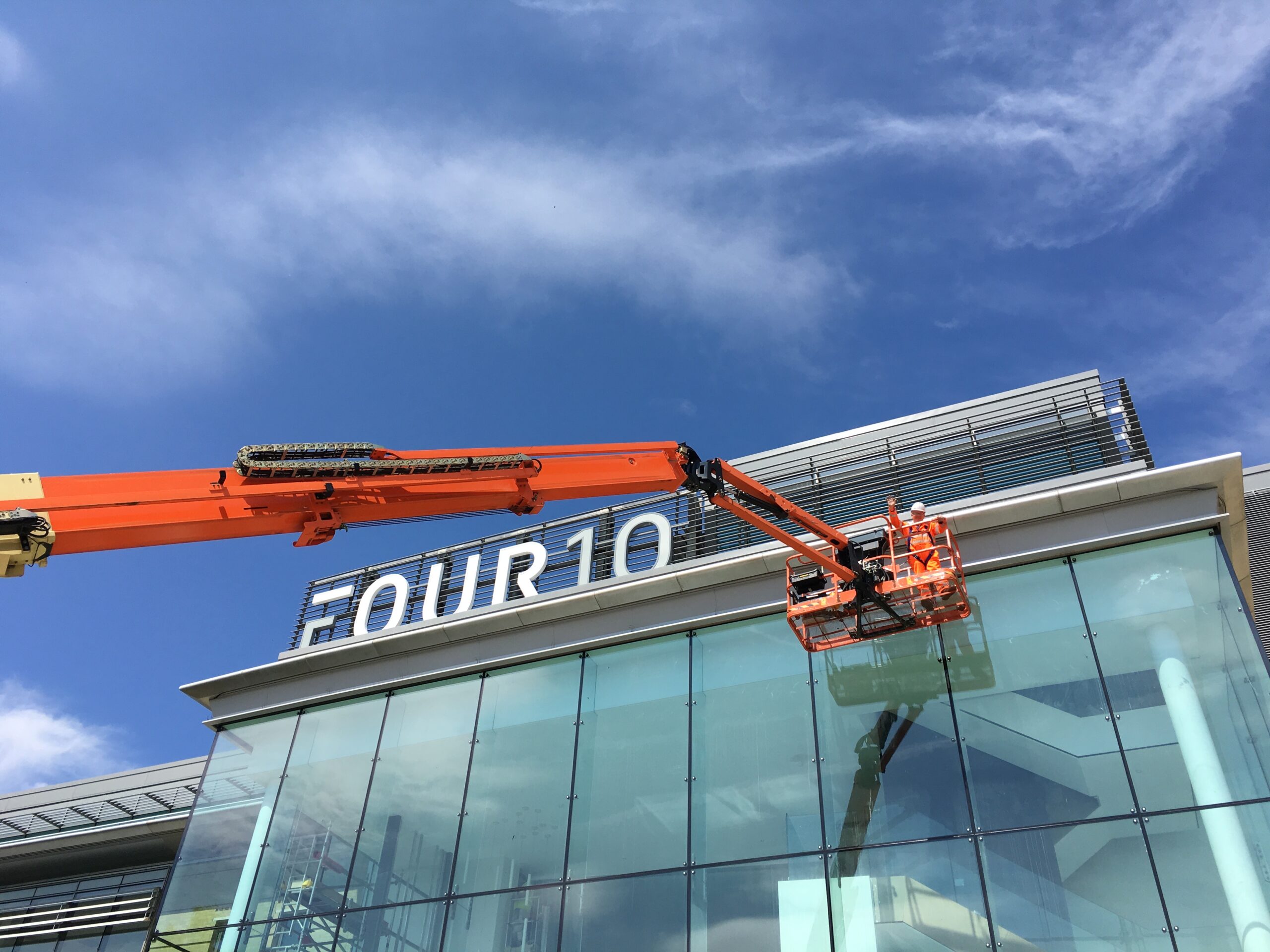 External Window Cleaning Services
As part of our external cleaning service, Countrywide offers quality window cleaning with our team of commercial window cleaners. We provide a window cleaning solution for a wide range of clients throughout Berkshire, Hampshire and Surrey.
Every client is unique and has different needs, which is why we offer a wide range of window cleaning services. For many commercial businesses, windows are more than just a functional feature: they are a clear billboard that can advertise services and highlight a commitment to quality. Some businesses have window displays, while others use windows to showcase their productivity inside or to ventilate the property while keeping out prying eyes. Whatever your situation, one thing's for sure: your windows need to be spotless to set your property apart.
That's where we come in. We take great pride in offering an extensive array of window cleaning solutions that will meet any need. Countrywide's exterior window cleaning service has evolved over the years, and we're proud of how far we've come. We started out with water-fed pole window cleaning using pure water. This was originally offered as an add-on to our pigeon control services to clean windows of any bird guano and other detritus. This service became incredibly popular and soon grew into a complete window cleaning solution for our commercial clients.
Today, we carry out regular planned window cleaning services either as a stand-alone solution or in addition to our pest control and external cleaning services. Our team use cutting-edge window cleaning equipment and the latest techniques to ensure that they remove greasy dirt and all other grime from your windows, leaving them spotless.
Pure Window Cleaning

The latest in window cleaning technology, pure window cleaning, involves using long-reach water-fed poles to safely and effectively clean windows up to 60′ high. Our water treatment unit can take normal tap water and, through 4 stages of filtration, can produce 99.9% "pure water". Pure water is the result of removing all particles and solids from the water that would normally leave smear and spot marks on window panes after washing. When cleaning windows, most window cleaners use a squeegee to avoid scratching the glass and leave it streak-free. However, using purified water is an innovative alternative glass cleaning solution to avoid mineral deposits and prevent streaks on your glass. This approach means that windows can be expertly washed, and no long ladders are required. When the water dries on the glass, no smear marks or deposits are left behind. The result is perfectly cleaned windows and a streak-free shine in half of the time.

High Reach Cleaning

When water-fed poles just aren't long enough to get to the areas to be cleaned, we can use your existing on-site cradle or specialist access equipment to clean exterior windows in hard-to-reach spots. Our high reach cleaning service is particularly useful for businesses with large properties and expansive outside windows. Just because the windows are high up doesn't mean they can't be seen, and dirt can build up to block out natural light and generally make your windows look unappealing. Our high reach window cleaning service ensures that even the tallest of windows, skylights and other tough spots are cleaned thoroughly. We ensure hard-to-clean windows are spotless using our cutting-edge solutions.

Traditional Window Cleaning

For ground level windows and small commercial properties, we offer traditional window cleaning solutions. In many cases, a squeegee, cleaning cloths, soapy water and some elbow grease are all it takes. So, if you just want basic, regular window cleaning to leave your windows crystal clear, we can offer this. Our team take great pride in their work and aim to offer only the highest possible standard of window cleaning to all our clients.
The Benefits Of Our External Cleaning Services
Fully-Trained And Insured
Complete External Solutions
Risk and Method Statements
Responsive Service
Hard-Working Teams
Quality Results For Your Business
Cutting-Edge External Cleaning Products Used
Commercial pest control? You need the experts
Contact Us